Extreme Stock System -
Opportunity for a Free Copy


Extreme Stock System is a simple but effective way to grow your trading account exponentially over time. It focuses your stock trading efforts on stocks that are dipping into extreme situations (either extremely oversold or extremely overbought) combined with risk management techniques to minimize losses and maximize gains for rapid trading account growth over time.
No more emotional trading or unnecessary stress from not knowing what your stocks are doing!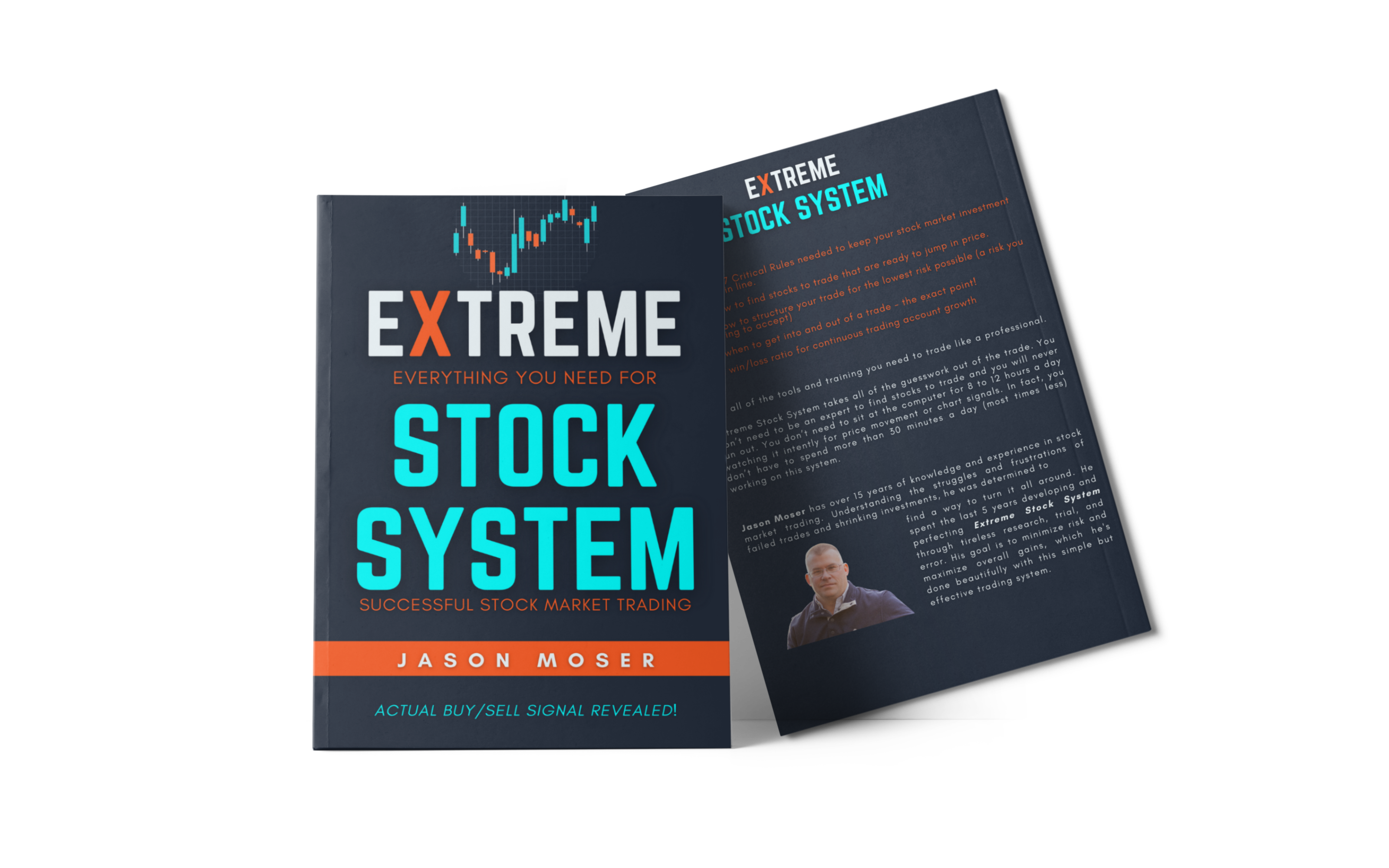 Highly Anticipated Release!
Your Chance to Get a FREE Copy Before it's Released!


Final system testing is complete and I'm excited to announce that I'm in the final stages of publishing the hard copy version of Extreme Stock System!
This book is a step-by-step guide to setting up the ultimate stock trading system, revealing all of the tools and exact signals for buys and sells. You will gain access to a special stock scan that will feed an endless supply of extremely oversold, ready-to-pop stocks, into your lap so you can start trading right away.

Once the hard copy of Extreme Stock System (a $297.00 estimated value) is released, the price WILL go up!
From now until October 15th, I'm looking for 10 people who want a FREE copy of Extreme Stock System.
You see, I need reviewers, testimonials, and success stories (besides mine) to make this book the best that it's meant to be. But for your little bit of work for me, you will gain full access to all of the tools and information, an electronic copy of the book right now, and a hard copy once it is published in November.
Once I have 10 people willing to provide me with their thoughts (yes, you must qualify for this), I will put up the initial buy button for pre-order copies of the book and set the release date. It will be discounted, but NOT FREE!
Don't waste any time. Get a copy of Extreme Stock System for FREE by completing the form below. You will receive an email from me with details on what will be required of you. If you agree, and you are one of the first 10 to qualify, you will get the electronic copy of the book.
Once you start reading and following the system, you can start making money right away.
Please visit Extreme Stock System for all of the details.

---

Extreme Stock System


- Learn the 8 Critical Rules You Need to Follow to Keep Your Stock Market Trades Safe

- Learn How to Easily Find Stocks to Trade that are Ready to Jump in Price

- Learn How to Structure Your Trade for the Lowest Risk Possible (a risk you are willing to accept)

- Learn When to Get Into and Out of a Trade - the Exact Point!

- Get All of the Tools and Training You Need to Trade Like a Professional
This system isn't looking for the big win.
The system looks for several smaller, safer wins that over time add up to the overall "big win" (with the occasional big win snuggled in among the little wins). With a 5 win to 1 loss rate, your portfolio can't lose with the special risk mitigation techniques in use.
This is the easiest decision process you will ever learn with regards to stock market trading. One primary signal tells you the perfect time to buy a stock when it's at its extreme low price. Three other indicators are used to confirm direction and to assess the risk of the trade, telling you exactly how many shares to buy and determine your exit point if the trade goes the wrong direction.
Let's face it... You aren't going to win at every trade. No system can guarantee that. Human emotion (not yours but others that influence the market) prevent a perfect system. But when you minimize your losses before the trade by determining how much you are willing to lose (generally no more than 1 to 2% of your trading capital) and using a couple of numbers to determine the perfect emergency exit point and number of shares to buy, all of the wins will seriously outweigh the losses over time.
You can never lose more than you are willing to lose in a trade. The 5 to 1 win rate will exponentially grow your trading account so you can invest more and more and gain more and more on every trade. Even if you lose on a trade, your overall gains from the winning trades will continue to compound and make you forget about the few losses.
---

Get it Before the Price Goes Up!


Want to get in before everyone else? Be the first to utilize the Extreme Stock System before it's mass-published for everyone. Submit your name and email in the form for a chance to get a free copy of this exciting system that gives you a real chance at stock market success.
I've finished my trial run of the system and have had amazing results. My best streak is 16 wins with one loss (results not guaranteed). 
I will be giving away the system to 10 people for FREE in return for testimonials, a review, an overall system evaluation, and feedback - all while you are actively using the system for your own financial benefit.
I'm publishing the book myself, so any problems found early on will be applied and you will receive the changes to the system.

This is a "trade at your own risk" system and you agree to the terms of the disclaimer when you receive your copy of Extreme Stock System.

I'm looking for SERIOUS investors who are WILLING to HELP. If you do not provide requested information during the testing period, you will still get to keep the system to use and make money, but you will lose all benefits of updates to the system and one-on-one help you will receive from me.

That's right. As a special bonus, I will provide one-on-one help for everyone with setting up the system and working with the system's tools  (if you need help). I'm still working on training videos to help with chart and scan set up. But the book is step-by-step and you shouldn't have any problems.

Don't miss out on this special chance to get the Extreme Stock System for FREE.

Complete the simple form above to be added to the list. This will be open for the first 10 who respond correctly to the questionnaire I will send to the email you submit above. Once all 10 slots are full, the form will be turned into a pre-order payment button and you will receive your FREE electronic copy of the system to get started.

I hope to hear from you soon and can't wait to start working with you.