Stock Sectors Help Investors Choose Winning Stocks


The stock sectors in the market are basically categories for publicly traded stocks. Similar companies in the same industry are grouped together to form key areas of the overall economy. Using these during your research helps make the decision whether the security you are looking at is worth buying in to.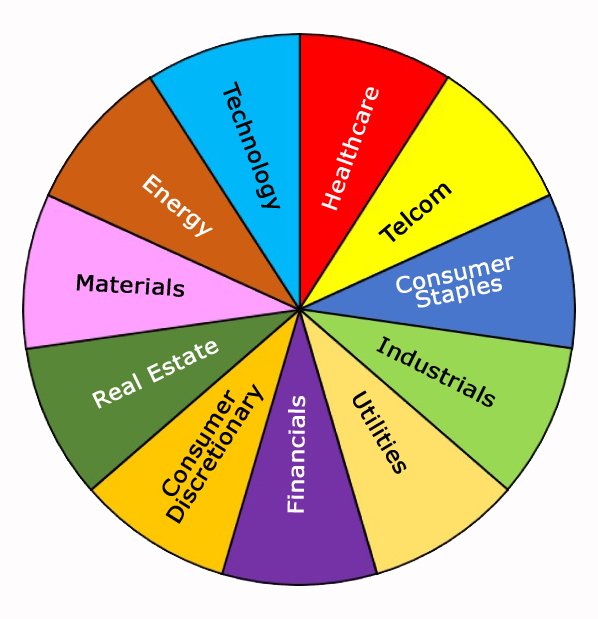 When a company is focused on a particular broad area, it is generally aimed at one sector, even if it has other facets of the spectrum earning it income. The primary purpose of the company, or main money maker, is typically what sector it will be categorized under.

When researching a stock you wish to purchase, if the sector is down and your stock is not following the same trends, you need to research the stock more before you buy. You may also find you categorized the stock wrong and need to reevaluate which stock sector it should be held under.
---

Breaking Down the 11 Major Stock Sectors


At any given time, the stock market is divided into eleven (11) major sectors that add into the whole (or the stock market). These are great, because the information you can gather from these sections can help you make a successful call on whether to purchase or sell a stock.

The following are the 11 major stock sectors and which stock ticker to use in your charts for your research:

1. Energy.
Energy is a huge sector that can be further divided down into mini-sectors, but overall, this one encompasses companies dealing in anything related to power. These include businesses dealing with oil, coal, solar power and refineries.

Each of the energy stocks contribute to overall price of energy related commodities, crude oil, and natural gas.

When considering an energy stock for your portfolio, you should check with the XLE Energy Select Sector ticker to ensure it is trending the same as the stock you are looking at.
2. Technology.
Another one of the big stock sectors in the stock market that drives a lot of the economy is Technology. This piece of the market is for companies that develop software, manufacture electronic parts or devices, or businesses dealing with information technology.

This is a very fast growing sector with a lot of volatility. This is also the sector with a lot of fast, big gainers (or losers).

To research a stock further in this category, enter the XLK Technology Select Sector ticker into your chart and see if your stock is following its trend.
3. Consumer Discretionary.
This is not one of the easy stock sectors to remember or identify its subordinates from its name. Consumer Discretionary is basically companies that center around consumer spending.

If the business's core focus is providing a product or service a consumer buys, such as media, services, retail, apparel and durables (products made to last for longer periods of time).

The chart ticker for Consumer Discretionary Select Sector is XLY and will help you compare a company within this group.
4. Materials.
The Materials sector covers a lot of the companies dealing with mining, chemicals, and other raw materials or the refining of such materials. These are the producers of the stuff other companies use to create their products.

Ever hear of Gold, Silver, and Uranium? Well, companies that mine them fit right in here.

To check your stock against this sector, enter XLB (Materials Select Sector) in your stock chart. You may also want to break this down even further such as if your stock is a Gold Mining company, check the GDX B+ to compare it against other gold mining companies.
5. Healthcare.
Any companies dealing with the healthcare industry such as medical equipment manufacturers, hospital management, and medical research fall into this sector.

This is one of the best stock sectors to own in because everyone needs medical attention some time or another. And with all of the research and breakthroughs going on with medicines, these companies really jump in price.

To help verify your stock is going to go the right direction with the healthcare sector, enter XLV into your stock chart.
6. Telcom.
The Telcom sector is one of the smaller stock sectors that houses the cell, cable, internet, and satellite service providers. With modern advances, these companies change quite rapidly and can either be good for the overall movement of this piece of the market or bad.

To research the Telcom industry, enter XTL (SPDR S&P Telecom) into your stock chart and compare to the stock you want to invest in.
7. Real Estate.
The real estate sector is self explanatory. It houses all of the real estate stocks including retail, residential, and industrial real estate.

After a big housing bubble, this sector can really get shaken up. It's still pretty shaky since the big drop in 2008.

You can check XLRE (Real Estate Select Sector) to get a good feel of what the sector is doing before you trade.
8. Industrials.
This sector is primarily larger producers such as defense, machinery, aerospace, and manufacturing companies. These produce large pieces of equipment such as tanks, airplanes, tractors, and such.

Many world events can make this sector explode into life such as war, natural disasters, country defense and other major events that demand construction.

To compare stocks within this sector, enter the ticker XLI in the chart.
9. Consumer Staples.
This is another one of those stock sectors where securities aren't easily identifiable. But to help, just think of staples as necessities. Food and beverage and other things people need on a recurring basis.

What's great about this sector is that when most of the other sectors drop drastically during a correction, these stocks remain steady or slowly decline because people still need to buy their products regularly.

The stock ticker to enter for the Consumer Staples Select Sector is XLP.
10. Financials.
Money makes the world go around, and this money comes from loans, mortgages, investment funds, and insurance.

This sector is usually contains some higher than average dividend yields and stocks involved are easily identified.

Check the Financial Sector by entering XLF in your chart.
11. Utilities.
Last, but certainly not least is the Utilities Sector. Stocks in this sector are very easy to identify because these companies produce utility services such as electricity, water, and gas.

They generally receive their income from recurring payments aren't as affected by stock market corrections due to their demand.

Research your stock with the Utilities Select Sector symbol XLU in your chart before trading.
---
Knowing all of the stock sectors and what kind of companies fall under each one help in the research process of stock market investing. If a sector is not doing so well, it is very likely the stocks within that sector are also doing poorly.

Checking your sector is a great way to see warnings where they may have been missed during your other research.